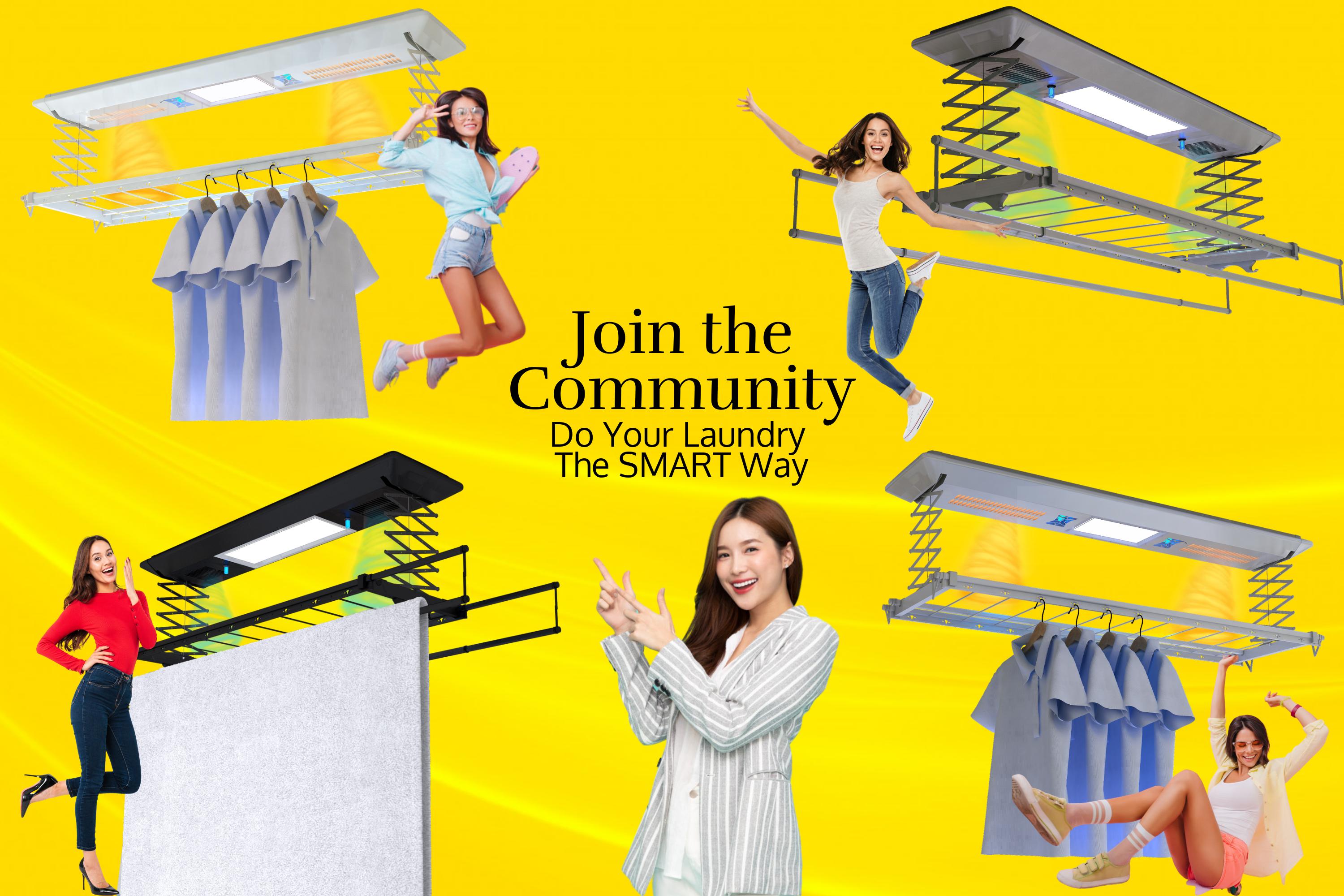 Automated Laundry System
Do Your Laundry The Smart Way
Remode Hub SG is specialised in providing long-lasting automated laundry rack systems to suit your needs.

We believe in providing good quality laundry systems, which comes with a remote control that provides effortless way of doing your laundry.

Our laundry system is user friendly, safe and durable. Remode Hub Sg offers products and solutions that improves the lives of the consumers.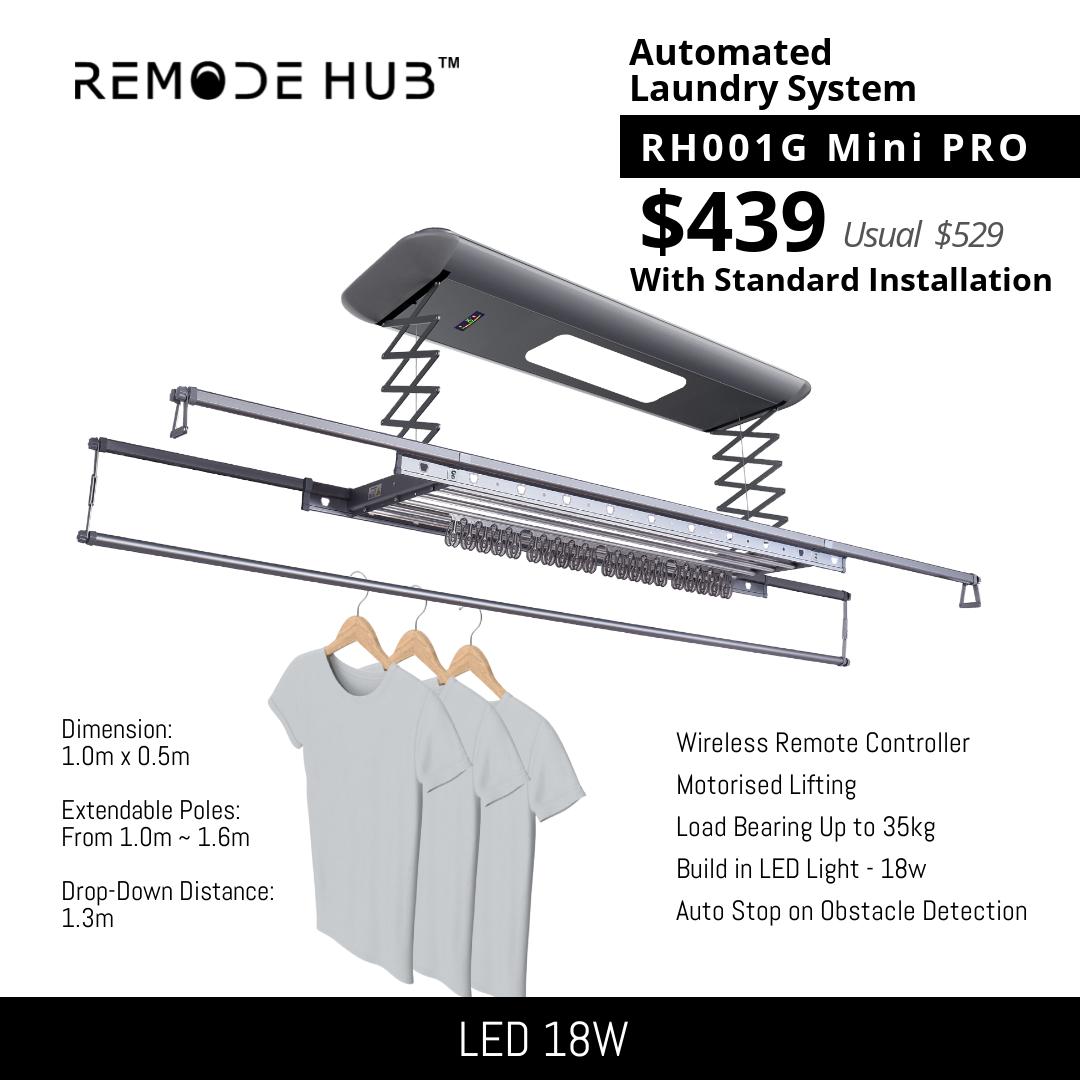 RH001 (Mini PRO Model) - NEW
Dimension: 1000mm x 500mm
Extendable Poles: From 1.0m ~ 1.6m
Drop-Down Distance: 1.3m

Functions:
Wireless Remote Controller
Motorised Lifting
Load Bearing Up to 35kg
Build in LED Light
Auto Stop on Obstacle Detection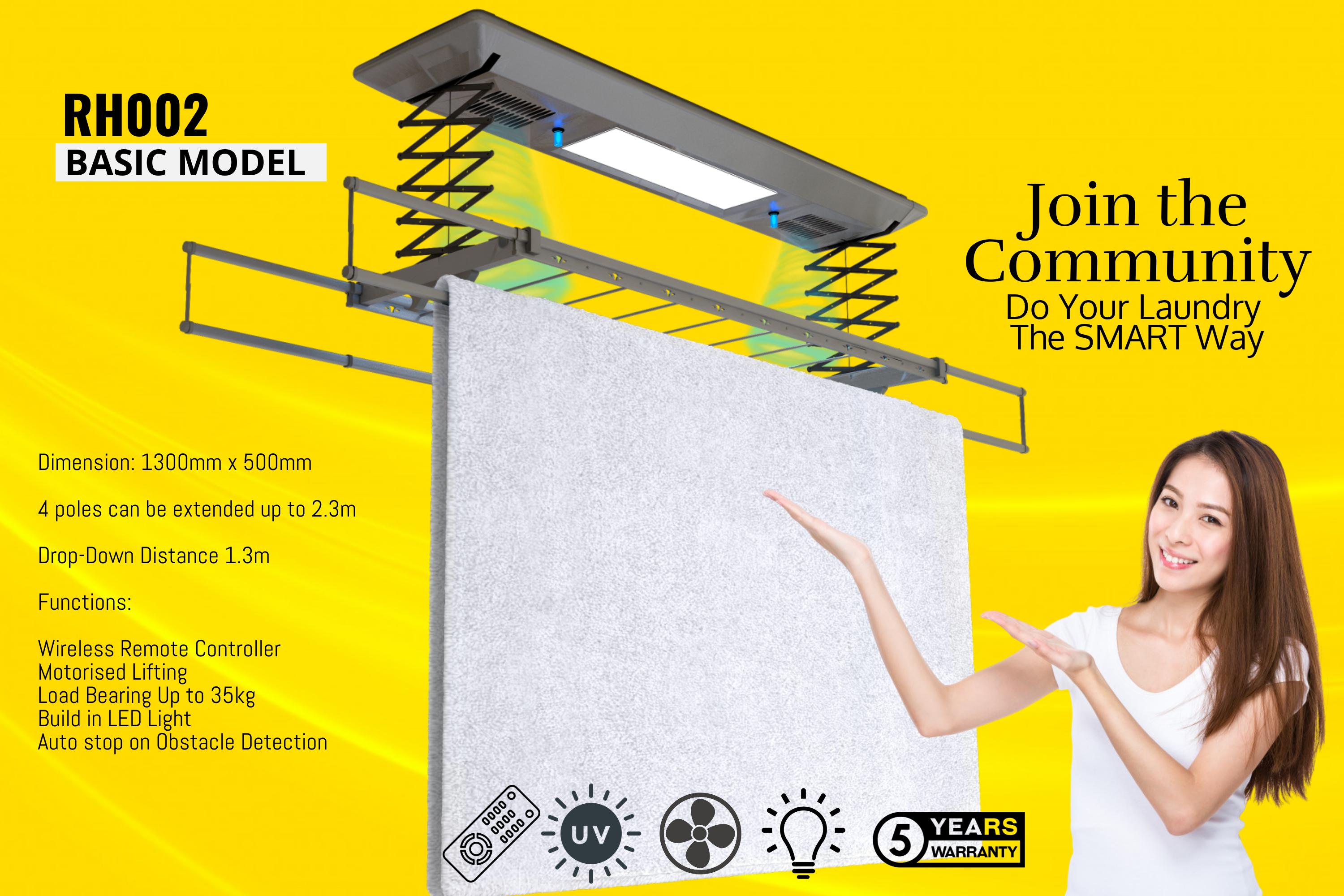 RH002 (Basic Model)
Dimension: 1300mm x 500mm
4 poles can be extended up to 2.3m
Drop-Down Distance 1.3m

Functions:
Wireless Remote Controller
Motorised Lifting
Load Bearing Up to 35kg
Build in LED Light
Auto stop on Obstacle Detection
Uv disinfectant( Auto off after 30 mins)
Dual Fan blower ( Auto off after 2hours)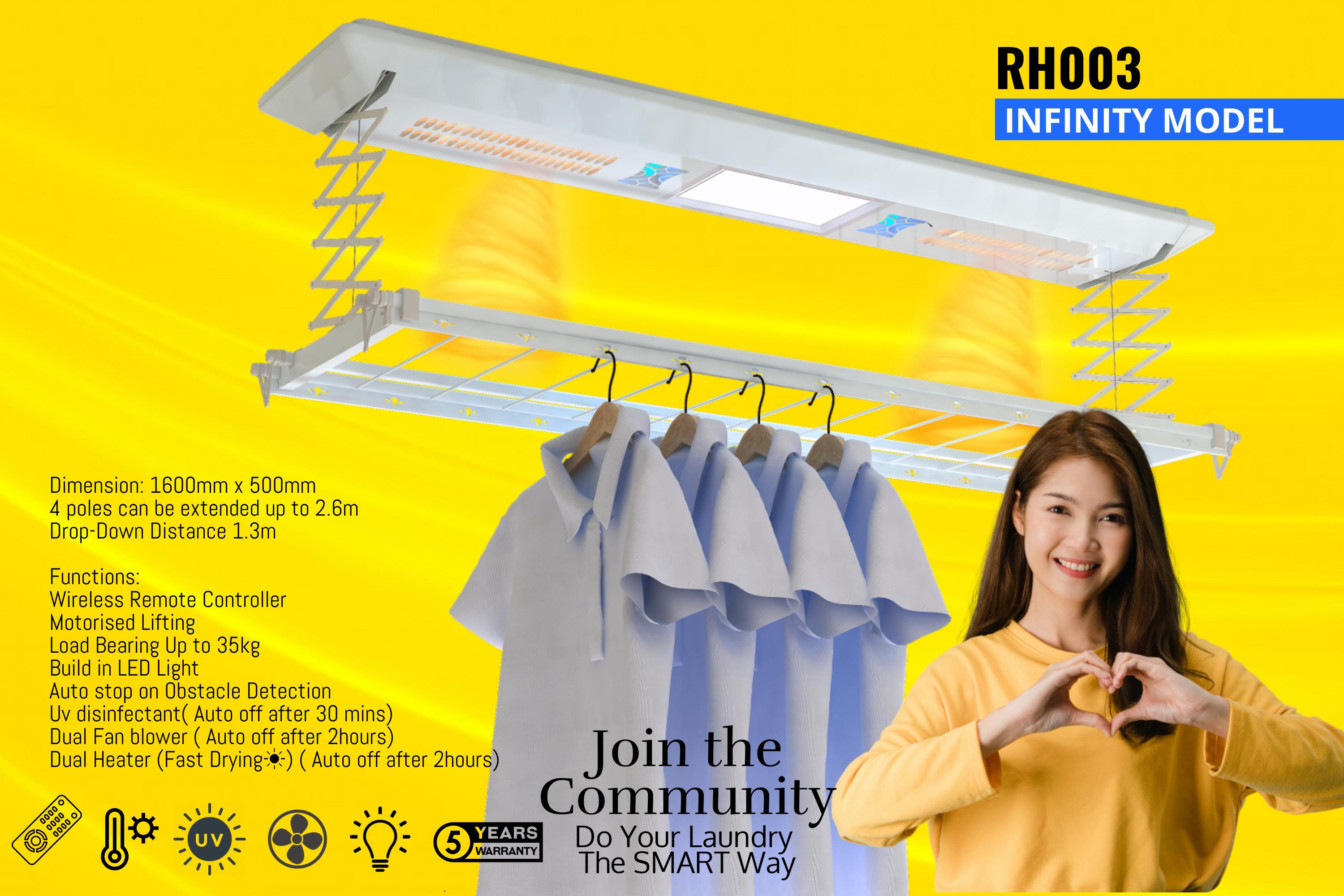 RH003 (Infinity Model)
Dimension: 1600mm x 500mm
4 poles can be extended up to 2.6m
Drop-Down Distance 1.3m

Functions:
Wireless Remote Controller
Motorised Lifting
Load Bearing Up to 35kg
Build in LED Light
Auto stop on Obstacle Detection
Uv disinfectant( Auto off after 30 mins)
Dual Fan blower ( Auto off after 2hours)
Dual Heater (Fast Drying☀️) ( Auto off after 2hours)
SG004 (Mighty Model)

🇸🇬



Voice Command + Tri-Tone Cove Light Mode
Assembled in Singapore (SG)
Dimension: 1000mm x 500mm
4 poles can be extended up to 1.6m
Drop-Down Distance 1.3m

Functions:
Wireless Remote Controller
Voice Command
One Touch Lifting
Load Bearing Up to 35kg
Build in LED Light - 24w
Auto stop on Obstacle Detection
Uv disinfectant( Auto off after 30 mins)
Dual Fan blower ( Auto off after 2hours)
Dual Heater (Fast Drying☀️)
( Auto off after 2hours)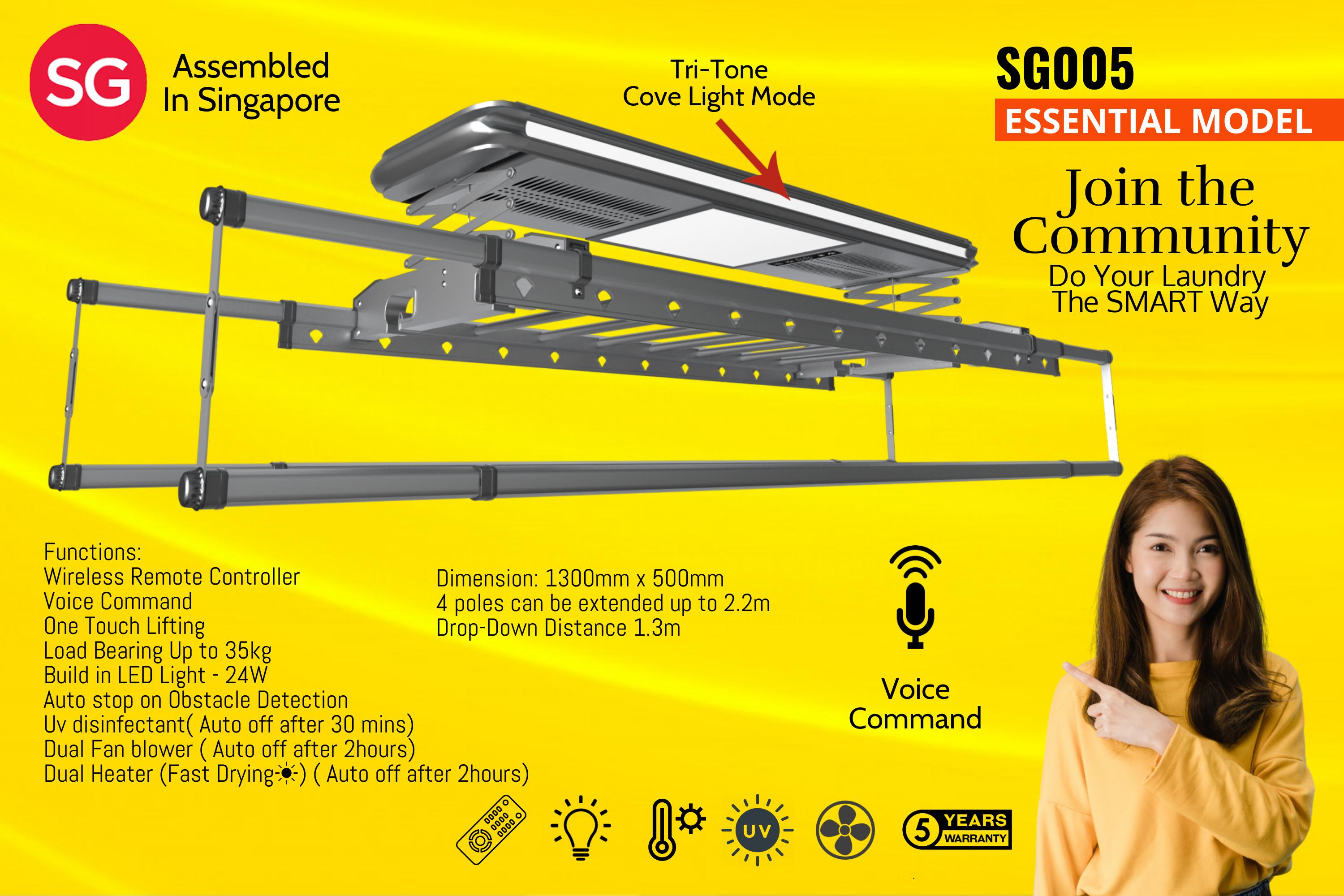 SG005 (Essential Model) 🇸🇬
Voice Command + Tri-Tone Cove Light Mode
Assembled in Singapore (SG)

Dimension: 1300mm x 500mm
4 poles can be extended up to 2.2m
Drop-Down Distance 1.3m

Functions:
Wireless Remote Controller
Voice Command
One Touch Lifting
Load Bearing Up to 35kg
Build in LED Light - 24w
Auto stop on Obstacle Detection
Uv disinfectant( Auto off after 30 mins)
Dual Fan blower ( Auto off after 2hours)
Dual Heater (Fast Drying☀️)
( Auto off after 2hours)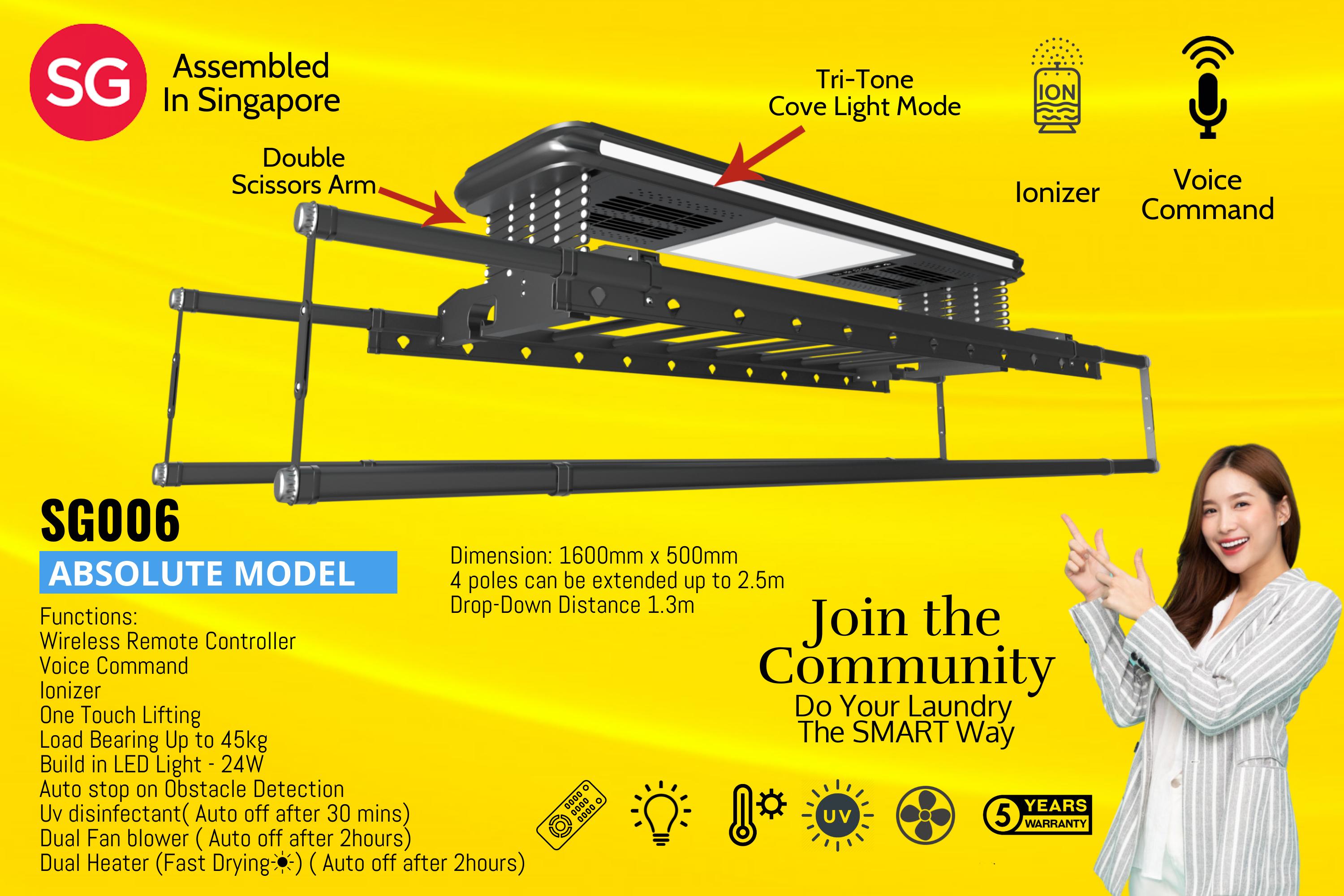 SG006 (Absolute Model)🇸🇬
Voice Command + Ionizer + Tri-Tone Cove Light Mode
Double Scissors Arm
Assembled in Singapore (SG)

Dimension: 1600mm x 500mm
4 poles can be extended up to 2.5m
Drop-Down Distance 1.3m

Functions:
Wireless Remote Controller
Voice Command
Ionizer
One Touch Lifting
Load Bearing Up to 45kg
Build in LED Light - 24w
Auto stop on Obstacle Detection
Uv disinfectant( Auto off after 30 mins)
Dual Fan blower ( Auto off after 2hours)
Dual Heater (Fast Drying☀️)
( Auto off after 2hours)



-----------------------------------------
Warranty 5 Years on motor and 2 years on parts.
Installation Guide
1. Standard Installation: Concrete ceiling below 2.8m, Existing light point
2. False ceiling installation, existing light point
There will be surcharge if you have a different ceiling type or running of additional electrical point.
#automatedlaundryrack#remodehub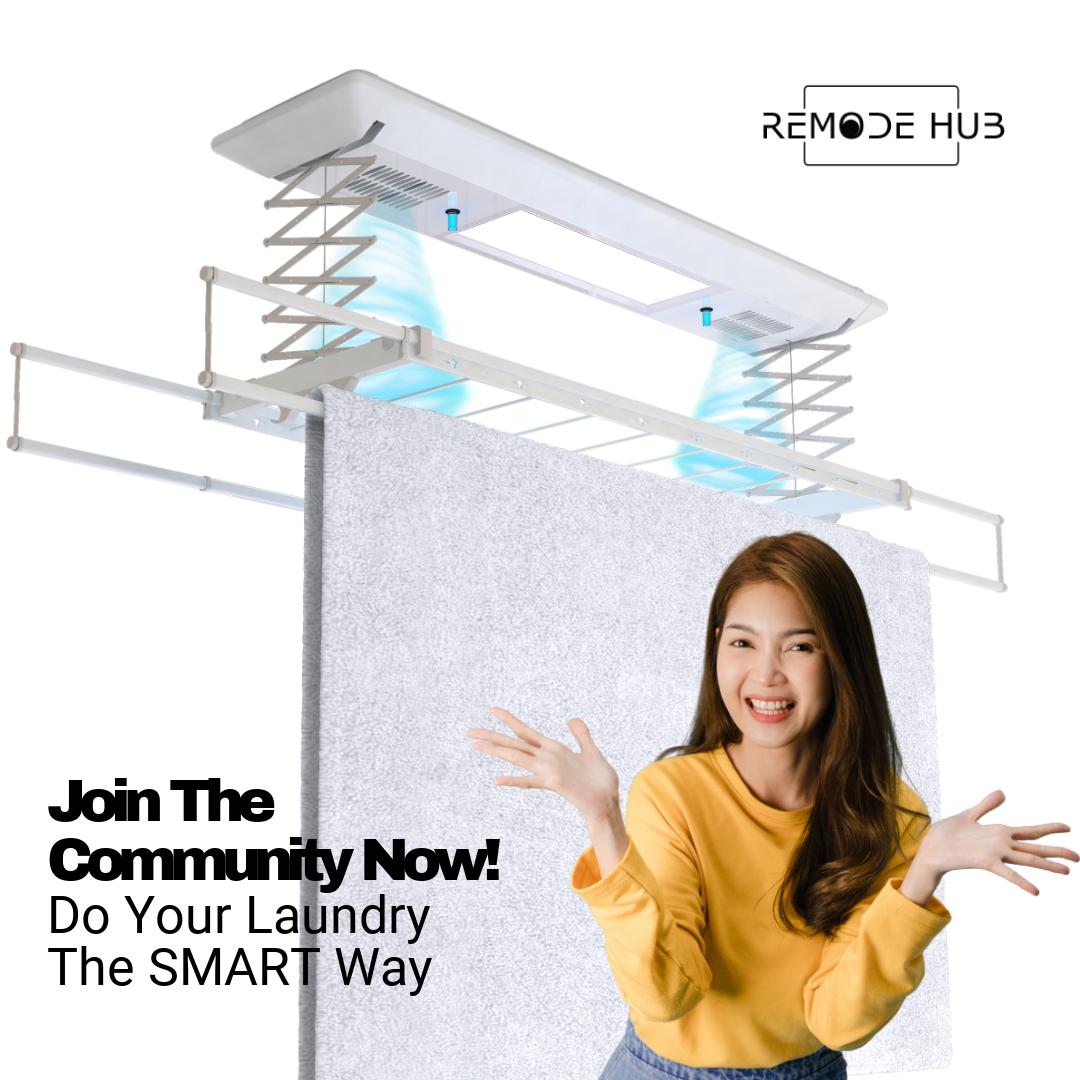 ---