Airvolution - Premium Automated Laundry System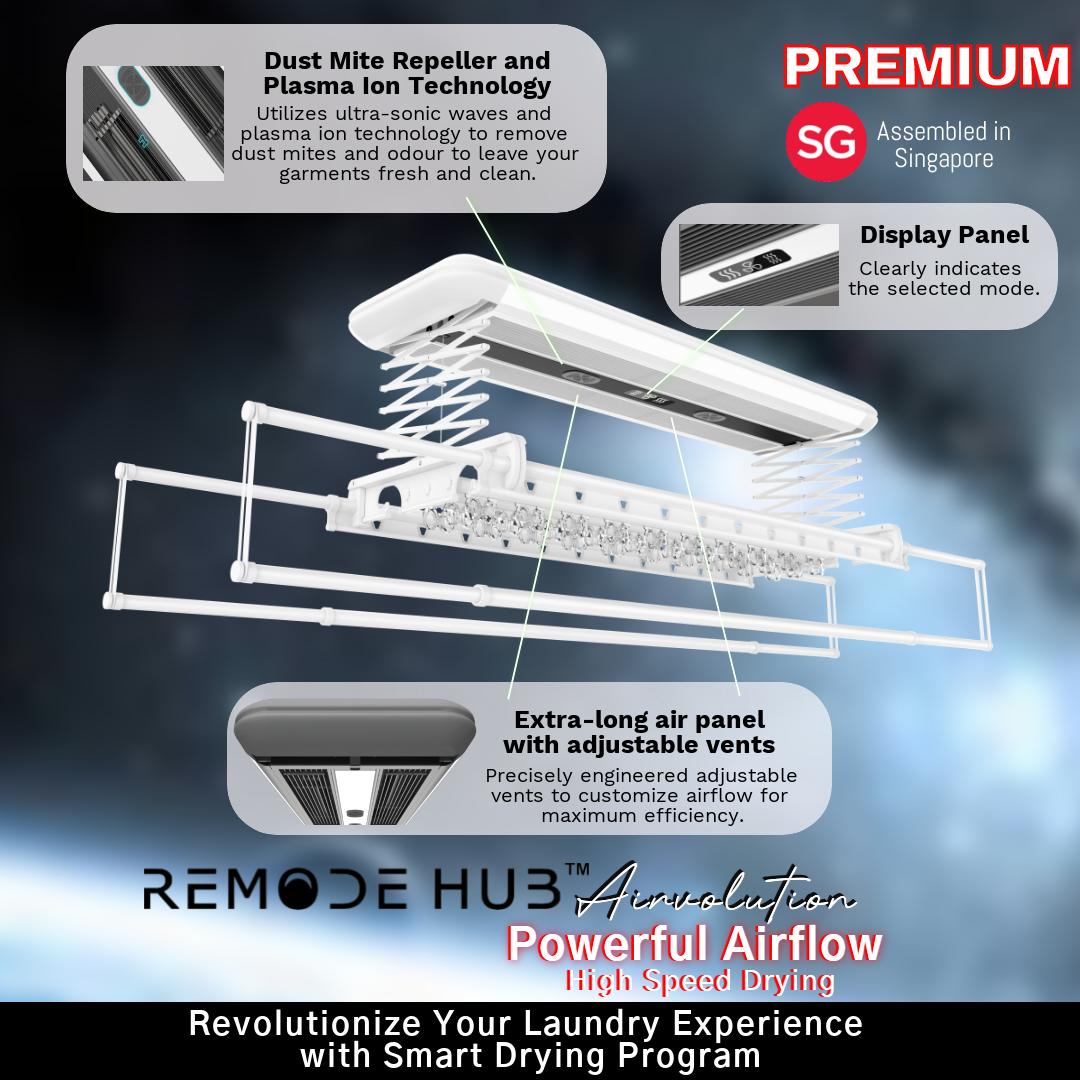 Meet the revolutionary Airvolution – a complete game-changer for your laundry routine.
With powerful airflow & adjustable vents - to accelerate the drying process.
Dust Mite Repeller, Plasma Ion Tech, and Mobile App control,
allows you to manage your drying rack anytime, anywhere.
"If you're looking to upgrade your current laundry setup, here's your chance to switch to this high-end automated laundry system."

Display Panel
Clearly indicates the selected mode.

Dust Mite Repeller and Plasma Ion Technology
Utilizes ultra-sonic waves and plasma ion technology to remove dust mites and odour to leave your garments fresh and clean.
Extra-long air panel with adjustable vents
Precisely engineered adjustable vents to customize airflow for maximum efficiency.

Space saving solutions
This space-saving rack keeps your laundry organized with convenient adjustable clips to accommodate hanging delicates and smaller garments.

Remote control made simple
With an intuitive design,that seamless- ly fit into your home aesthetic.

Mobile App Control
With just a few taps on your phone, you can control your laundry rack anytime, anywhere.

Led light panel
With 3 tone settings - warm, natural and cool, you can change the mood and ambiance in your space in an instant.

Breathing light
Light up the night in style with this illuminating inspiration indicating the different drying mode.

Airvolution 1.3
Dimension: 1300mm x 375mm x 85mm
Colours: Pearl White/Misty Grey
Capacity: 45kg
Drop Down Height: 1300-1450mm
Max Energy Consumption: 1326w
Extension Poles: 1300-2100mm
Hanging Holes: 22
In-Built Clips: 30
Electrical Requirement: 13amp
Min Installation Space: 1500 x 700mm

Airvolution Max 1.6
Dimension: 1600mm x 375mm x 85mm
Colours: Pearl White/Misty Grey
Capacity: 45kg
Drop Down Height: 1300-1450mm
Max Energy Consumption: 1430w
Extension Poles: 1600-2400mm
Hanging Holes: 28
In-Built Clips: 39
Electrical Requirement: 13amp
Min Installation Space: 1800 x 700mm

---